If you are a new Wavlink user or thinking about investing in this premium wireless WiFi brand, the Wavlink Touchlink WiFi smart connect technology will excite you more. If you have already heard about this or used it, you better know how it works and how useful it is. You may also know the other side of technology which is not very interesting. But, in case, you aren't aware of the Wavlink Touchlink, here we will be explaining the same in detail. Let's get started!
What is Wavlink Touchlink WiFi Smart Connect Technology?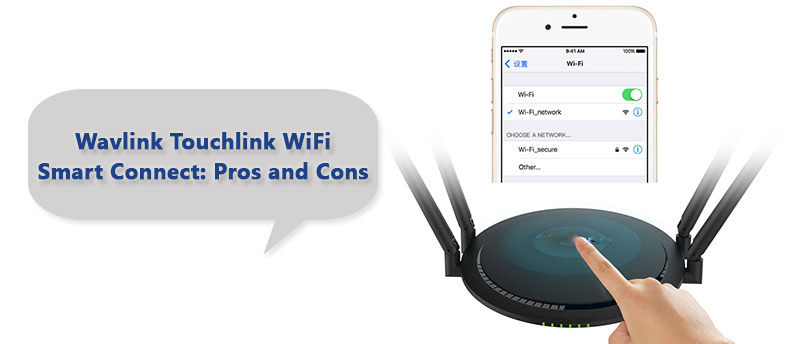 Wavlink Touchlink is a super advanced and the most innovative WiFi smart connect technology that allows users to connect to the WiFi with just one touch or tap. How did it sound to you? Incredible right? That's what this technology is. It is a patented technology of Wavlink and most interestingly no other big data networking brands have the same technology as of now.
The Wavlink Touchlink uses a smart sensor-based system that is linked with the major functions of a Wavlink WiFi device like connection and setup. Users can connect to the guest network within a couple of minutes using this technology. And most importantly, you will not need to put in your Wavlink password to use this. This WiFi Smart Connect technology is available only in select Wavlink devices like Wavlink AC1200 and Quantum S4 N300. In most models, you will find a built-in censor on the top of the device. If the Wavlink model you bought has a logo on top of it, the censor is probably underneath that. You simply need to touch the Wavlink logo to enable the Touchlink feature and connect your device to the Wavlink network fastly.
Pros of the Wavlink Touchlink WiFi Smart Connect Technology
Every technology brings a number of advantages to humanity. Wavlink Touchlink is not an exception. Since this awesome technology is designed to simplify the network connection process, it offers multiple benefits to users, ensuring an awesome experience. Let's discuss
those in detail respectively.
One-Touch Connection
Wavlink Touchlink WiFi Smart Connect Technology is all about one touch. Meaning it is a one-touch connection system that allows users to skip all the complex steps to connect to the network. Users simply need to touch the built-in censor on the top of their Wavlink device to establish a successful connection between a Wi-Fi-enabled device and a Wavlink WiFi device. It is a process of a maximum of a couple of minutes.
Faster and Hassle-Free Setup
Setup is a crucial process for any router, extender, or access point. If you have a Wavlink router for example, you will first need to complete the Wavlink Router setup. You will be unable to use the fast-speed internet of your router device without the setup. Generally, Wavlink devices have a couple of setup options that you can consider, like mobile application-based setup and web portal-based setup. Now, you also get the Touchlink setup option. You will not need to go through the complex setup process while using this option. But, there is a catch that may prevent you from choosing the Wavlink Touchlink Setup option. We will explain about it ahead.
Improved Security
With technological advancement in recent decades, the risk of malware attacks and phishing has increased a lot. Not only your mobile phones and computers are targeted by hackers, but also your wireless home WiFi networks. Wavlink Touchlink WiFi smart Connect technology focuses on improving the security of your network. It comes equipped with the latest wireless network security technologies that provide the ultimate protection for your wireless devices.
Cons of Wavlink Touchlink WiFi Smart Connect Technology
Like any other technology, Wavlink Touchlink technology has a second aspect as well. If it provides a hundred benefits to you, you may receive a dozen of drawbacks as well. Some known drawbacks that you bring home with Wavlink Touchlink technology include the following.
Limited Compatibility
Limited Compatibility is one of the biggest drawbacks that you bring home along with your Wavlink Touchlink device. This high-end technology is compatible with only Wavlink routers and extenders. You cannot use this technology if you add a Wavlink Touchlink device with other networking products. If you really want to utilize this innovative technology, you must already have a Wavlink router or modem at your home. If you don't have one, you should purchase one.
No Option For Customization
Undoubtedly, Wavlink Touchlink WiFi Smart Connect Technology is easy to use, but it lacks some customization options. You may not be able to customize your network name or password while using a Wavlink Touchlink device. In addition, you can't perform a few major functions like setting up guest networks or parental controls. So, if you want a customization option open for yourself, investing in a Wavlink Touchlink device wouldn't really be a great idea.
Cost Of a Wavlink Touchlink
Another biggest con, probably not for everyone, of Wavlink Touchlink technology is that it is expensive. You may not own it without having a decent budget. If you compare its price with other Wavlink devices, you will see a significant difference. It may be more expensive than other WiFi technologies, which makes it a clear con, especially for those on a tight budget.
Is Wavlink Touchlink WiFi Smart Connect Technology Worth Your Investment?
Honestly, it depends on how you take it. If the budget is not a big issue for you and if you have no problem with certain limitations that come with this technology, you will definitely love using it. On the other hand, if you have a tight budget and you want customization options open for you, you will probably not love this much. So, it completely depends on a variety of factors. If you want to know about the worth of this technology either in yes or no, we would say, yes. It is worth investing in technology like Wavlink Touchlink WiFi smart connect as it transforms the way you use your wireless WiFi network at home or office.
For more information on Wavlink technologies, devices, and functions like Wavlink router setup, firmware update, and password reset, stay tuned with our latest blogs. You can also approach our Wavlink Technical Support team if you have any queries or issues related to your Wavlink device.